Det er ikke ofte at en så oppskrytt bok ikke er oppskrytt.
Menn som hater kvinner
Forfatter: Stieg Larsson
Forlag: Gyldendal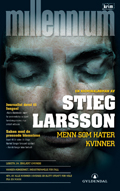 Noen bøker er slik at de er vanskelige å legge fra seg. Hvis noen synes Bokavisen er litt tynnere oppdatert enn vanlig de siste to dagene, skyldes det at Menn som hater kvinner har den effekten. 550 sider leses på to døgn ved siden av svært mange andre forpliktelser. Hvorfor nevner jeg dette? Fordi at evnen til å fange leseren er et av de sikreste tegn på at en krimbok virkelig treffer.
Boken handler om den kritiske frilansjournalisten Mikael Blomkvist som blir dømt for æreskrenkelser. Han engasjeres i en ny sak som innebærer oppklaring av en 40 år gammel gåte. Lisbeth Salander er en researcher som bistår med sin ekspertise. I omtale av en krimbok bør man ikke avsløre for mye av handlingen, noe jeg heller ikke skal gjøre.
Persongalleriet i boken er imponerende. Vi møter spennende mennesker som omgås hverandre på svært interessante måter. Sære mennesker finner sin plass i en helhet og tilvante familieoppfatninger utfordes. Heltene til Stieg Larsson skiller seg ut ifra vanlige krimhelter.
Boken har en god story. Det er snakk om en ekte gåte som skal løses og saken har en rekke finurlige elementer. Det er sentrale bihistorier som vever seg sammen med hovedsaken og overtar fokuset på de riktige plassene. Larsson har skrevet en bok med flere histrorier.
Handlingen har driv. Forfatteren lykkes med å drive historien fremover på en måte som skaper nysgjerrighet for hva som skjuler seg på de neste sidene. Han er også flink til å veksle mellom ulike innfallsvinkler og forskjellige personers perspektiv. Språket er også eksemplarisk, lett, men fargerikt.
Det er rett og slett en svært god krim. Så god at jeg har jaktet litt på feil og svakheter. Det eneste jeg fant var en påstand om at Harald Vanger snart var 75 år (s. 403). En bagatell.
Slutten kommer i flere puljer og fungerer. Historien henger rett og sett sammen. Den røde tråden er der!
Det er bare å løpe og kjøpe boken, for neste bok om Blomkvist og Salander kommer allerede senere i vår. Jeg gleder meg allerede.