En herlig bok om vennskap.
Tittel: Orm og Øgle
Originaltittel: Snake and Lizard
Forfatter: Joy Cowley
Illustrasjon av: Gavin Bishop

Oversatt av: Jan Chr. Næss
ISBN: 9788202331979
Utgitt: 2010
Språk: Bokmål
Antall sider: 97
Omslag: Innbundet
Forlag: Cappelen Damm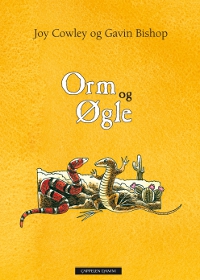 "Orm og Øgle ble kjent under en krangel, den første av mange. Slik skjedde det."
Dette er begynnelsen på boken om Orm og Øgle. To reptiler som lærer hverandre å kjenne både på godt og vondt. Deres forskjeller fører stadig til krangler, men de finner alltid en løsning og blir venner igjen.
"Jeg skjønner ikke hvorfor vi alltid krangler sånn," sa hun. "Det er fordi vi er så ulike," sa øgle. "Men likevel, kjære orm, er du min beste venn." "Og du er min beste venn, kjære Øgle," sa Orm.
Sammen løser Orm og Øgle mange utfordringer. De lærer å tilpasse seg og akseptere hverandres ulikheter, noe som medfører lærdom om god folkeskikk og nestekjærlighet. De to vennene ønsker å hjelpe andre, og starter "ØGLE OG ORM – HJELP OG HJELPER". Her hjelper de andre dyr med problemer som kan gjenspeiles i hverdagslige utfordringer hos oss mennesker. Det er et utrolig sjarmerende samspill mellom de to vennene, noe som fikk meg til å smile gjennom hele boken.
Orm og Øgle er en bok som rett og slett bør leses av alle! Måten Joy Cowley presenterer hovedreptilene og deres måte å lære hverandre å kjenne på, gjør boken vanskelig å legge fra seg. Hvert kapittel inneholder en herlig historie om hvordan de to vennene løser dagligdagse utfordringer, og det er en god balanse mellom humor og alvor.
Boken ble første gang utgitt i New Zealand i 2007. Den er delt inn i 15 kapitler som hvert er på 2 til 8 sider. Det er stor skrift og bilder som gir et avbrekk i teksten, noe som gjør boken lettlest. I tillegg er dette en god bok for høytlesing, både hjemme og på skolen.
Joy Cowley er fra New Zealand og begynte å skrive for barn da hun i 1953 redigerte en barneside for The Manawatu Daily Times. Siden har hun skrevet bøker for både barn og voksne, mer enn 600 titler totalt. I 2011 ble bok nummer to om Orm og Øgle, Venner, utgitt i Norge. Gavin Bishop, også han fra New Zealand, har i tillegg til illustrasjonene i Orm og Øgle både illustrert og skrevet egne barnebøker siden 1981.